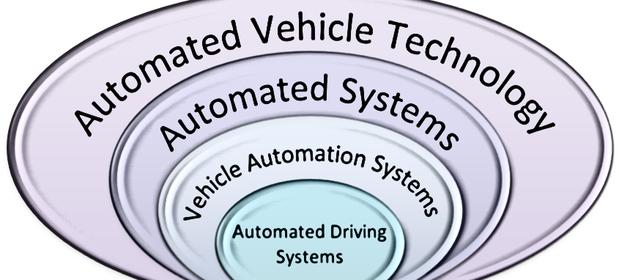 Ekipa z BlackBerry zajmująca się rozwojem QNX ciężko pracuje by ich produkt utrzymał pozycję lidera na rynku oprogramowania motoryzacyjnego. Ostatnio ogłosili , że szykują się na prezentację nowego auta koncepcyjnego opartego o ich technologie (w zeszłym roku był to Maserati Quattroporte GTS) na targi CES 2016, które odbędą się 6 stycznia 2016 w Las Vegas.
Dodatkowo firma ogłosiła wczoraj, że nawiązuje współpracę z AdasWorks, którzy zajmują się tworzeniem czegoś w rodzaju sztucznej inteligencji dla zautomatyzowanej jazdy. Wspólnie firmy połączą swoje rozwiązania, przez np. wprowadzenie techniki rozpoznawania pasów ruchu, poruszających się obiektów i ich klasyfikację na platformę QNX. Celem ma być osiągnięcie inteligentnego systemu, który pozwoli na zautomatyzowaną jazdę z widokiem 360 stopni wokół pojazdu.
Hierarchia technologii zautomatyzowanych systemów pojazdów:
Wszyscy giganci chcą stworzyć swoje własne rozwiązania do zautomatyzowanej jazdy, więc dobrze, że QNX nie pozostaje nikomu dłużne i ciekawe co zobaczymy na targach CES, bo ponoć ma być to związane z portfolio BlackBerry IoT.
Pełny komunikat prasowy:
QNX and AdasWorks Collaborate on Automated Driving Technology
Companies integrating software technologies to enable intelligent, multi-camera surround-view systems.
Ottawa, Ontario and Budapest, Hungary â December 10, 2015 â QNX Software Systems Limited, a subsidiary of BlackBerry Limited, and AdasWorks, an innovative startup developing artificial intelligence-based software for automated driving, today announced a technology partnership focused on advanced driver assistance systems (ADAS) and autonomous vehicles.
As part of the new initiative, the companies are porting several AdasWorks functions, including lane detection, moving-object detection, and object classification, to QNXÂŽ OS platforms. The goal is to create a software foundation for intelligent, multi-camera systems that enable automated driving by providing a 360-degree view of the area around the vehicle.
"Next-generation automated driving applications, such as the intelligent object detection in a surround-view system, can provide enhanced comfort and safety. Through AdasWorks' integration with QNX OS technology, our mutual partners and customers will be able to access a solution that complies with industry standards and safety requirements," said Laszlo Kishonti, Founder and CEO of AdasWorks. "Building on our knowledge in computer vision and artificial intelligence, we are ready to take the next steps with QNX Software Systems, the leading experts in automotive embedded systems and safety-critical software platforms."
"An OS with proven safety credentials is essential to any semi- or fully-autonomous vehicle, but the vehicle also needs to process a huge amount of information about the world around it," said Andrew Poliak, Global Director of Business Development, QNX Software Systems. "Advanced, neural networks-based algorithms, combined with the right OS, can be key to interpreting and processing multi-camera and multi-sensor-based data efficiently. Together, AdasWorks and QNX technologies can enable the industry to implement automated driving features more quickly and cost effectively."
QNX Software Systems offers a comprehensive portfolio of infotainment, telematics, safety, and acoustics solutions deployed in more than 60 million vehicles worldwide. More than 40 automotive OEMs use QNX software, including the QNX NeutrinoŽ OS, the QNX OS for Safety (compliant to ISO 26262, up to Automotive Safety Integrity Level D), the QNX CAR⢠Platform for Infotainment, and QNX acoustics middleware, for their head units, digital instrument clusters, advanced driver information systems, hands-free systems, and connectivity modules.
About AdasWorks
AdasWorks develops artificial intelligence-based automated driving solutions. The company has professional experience in high-performance embedded programming, computer vision, parallel computing, artificial intelligence and navigation technologies. Their vision is to revolutionize the automotive industry by providing an integrated, neural networks-based software toolkit, which makes automated driving safe and affordable. For more information please, visitwww.adasworks.com and follow @adasworks on Twitter.
About QNX Software Systems
QNX Software Systems Limited, a subsidiary of BlackBerry Limited, is a leading provider of operating systems, middleware, development tools, and professional services for connected embedded systems. Global leaders such as Audi, Siemens, General Electric, Cisco, and Lockheed Martin depend on QNX technology for their in-car electronics, medical devices, industrial automation systems, network routers, and other mission- or life-critical applications. Visit www.qnx.com, and follow @QNX_News on Twitter. For updates on the company's automotive work, follow @QNX_Auto and visit qnxauto.blogspot.com
About BlackBerry
BlackBerry is securing a connected world, delivering innovative solutions across the entire mobile ecosystem and beyond. We secure the world's most sensitive data across all end points - from cars to smartphones - making the mobile-first enterprise vision a reality. Founded in 1984 and based in Waterloo, Ontario, BlackBerry operates offices in North America, Europe, Middle East and Africa, Asia Pacific and Latin America. The Company trades under the ticker symbols "BB" on the Toronto Stock Exchange and "BBRY" on the NASDAQ. For more information, visit www.BlackBerry.com .
Polub money.pl na Facebook: